I have been thinking a lot about beauty lately. I put this post on the back burner for a bit because beauty isn't something that I'm well versed in. I know the bare bone basics and I think I get by just fine, but I'm sure there's a ton of makeup fanatics who will gag while reading this post. Oh well, to each their own!

I have a bit of a confession to make: most of my makeup comes from either the drug or grocery store. #sorrynotsorry
I know that comes as a bit of a surprise as I'm always ranting and raving about how much I love lipsticks. I do have a select amount of designer, or higher end, products in my collection, but they are few and far between. If you know me, you know that I love two things: the first being a challenge and the second being a deal. I'm always on the hunt for the next great drugstore find, but the products that I'll be talking about today are my holy-grail, staple pieces that I will buy time and time again.
There are a few holes in this list, though. For example I haven't found a bronzer or a powder that I can't live without. If you have any suggestions, please let me know! I also added two high end makeup products to this list, but I'd be a liar if I left them out. And to give you a little breakdown about what I'm working with skin-wise: my complexion is fair, and I have horrible, oily and acne prone skin.
Okay, now onto the products!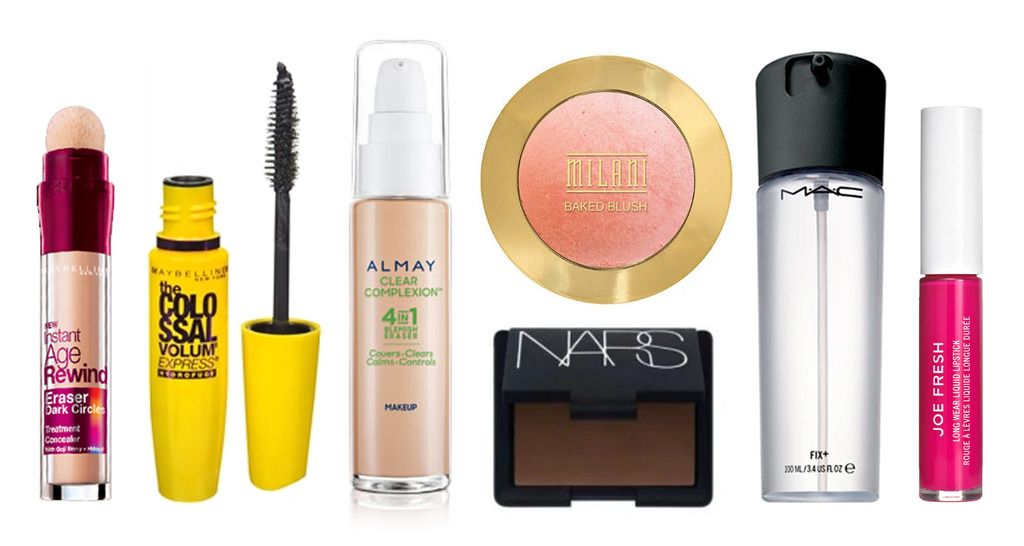 1.
Maybelline Instant Age Rewind Dark Circles Treatment Concealer
If you're familiar with beauty gurus on YouTube - you've heard of this product. This stuff works wonders. As someone with a whole wack of sleep related disorders, this is something that I use every. single. day. It instantly hides the bags under my eyes and it makes me look awake and refreshed. I can't rave about this product enough.
My eyelashes (and eyebrows tbh) are my most complimented feature and it's all thanks to this one product. I've tried a ton of different mascaras from the very high end to the cheapest drug store finds and this is the only one that I go back to. I have pretty long and dark eyelashes as it is, but this has a way of adding extra volume and curl to it. I always get the waterproof version because I have oily skin and this helps prevent raccoon eyes, but I've heard great things about their regular version as well.
My favourite foundations in the past have been the Urban Decay Naked and the MAC Studio Fix. I have extremely oily and acne prone skin, so everything either breaks me out or slides right off of my face. I never thought that I could find a drug store alternative that I love, but I'm thrilled that I have. Foundation can be extremely expensive so I'm happy to be able to save a bit of money. I've clocked some pretty long days while wearing this and it wears for a really long time. I only really ever have to touch up with powder to mattify my skin, other than that it's great. The only downfall is the colour selection is super limited, so please keep that in mind.
I never thought that I could love a blush. I thought they were a dime a dozen, but I thought wrong. Seriously, this product is a godsend. I have it in a few different tones and it just makes your cheeks pop. There are some great super natural looking shades with a bit of shimmer baked into it that look great for day-to-day wear and there are some super bold colours that look great when you're in the mood to experiment a bit. I can't even tell you my favourite shade it comes in because they're all SO GREAT. I just picked up a vibrant pink one that I'm itching to use.
I actually use this, with an angled brush, for my eyebrows. It's $28CAD at Sephora and it lasts FOREVER. I have naturally dark brown hair and I find it to be the perfect shade. It lasts all day, it doesn't budge and it's a great investment. The eyeshadow single even comes with a little mirror in the packaging which I think is an adorable little touch.
My love for this product runs deep. It's basically a water-like substance that you can spritz over your face. I use it for a million different things but the two most common ways are to use it all over to make it look less powdery / use it as a sort of setting spray and to use it to wet your brushes to make shadows more pigmented. This stuff will run you $22CAD and it's worth every penny. The packaging is great as well, I have never had it leak on me and I bring this every time I travel or spend the night at a friends.
7. Joe Fresh Matte Lipsticks (no link unfortunately)
These bad boys aren't sold online so I couldn't grab a link, so y'all are going to have to trust me on this one. Sorry if you're not a Canadian! These are by far my favourite lipsticks. I know that's a huge thing to claim, but it's true. I love the original formula as well as the liquid one. The standout colour for me has to be 'Fuschia', it's exactly what the name implies and you can see me wearing it in a lot of my posts. (
1
,
2
) I do love the matte formula, but they aren't drying on your lips! It isn't a lip colour that moves around a lot on the lip and you rarely have to reapply, which is what I look for most in a lipstick. You can pick up Joe Fresh lipsticks at any Loblaws, Real Canadian Superstore or Joe Fresh store. I have a feeling that Shoppers Drug Mart will start carrying the Joe Fresh makeup label sometime in the near future as well.
* This is not a sponsored post. All thoughts are completely my own.