MUSIC FESTIVAL SEASON IS FINALLY UPON US!! Can you tell I'm excited!? I'm going to be attending
Amnesia Rockfest
this Friday and Saturday and I'm currently in the process of packing for it. Packing for anything is something I always dread and I'm totally the type of person who forgets necessary items but fills my bag with a bunch of useless crap. Pictured below are my must have items for surviving any outdoor festival.
If I forgot to add anything to this list, or if you have any suggestions, please leave a comment! I'm most likely already forgetting something important.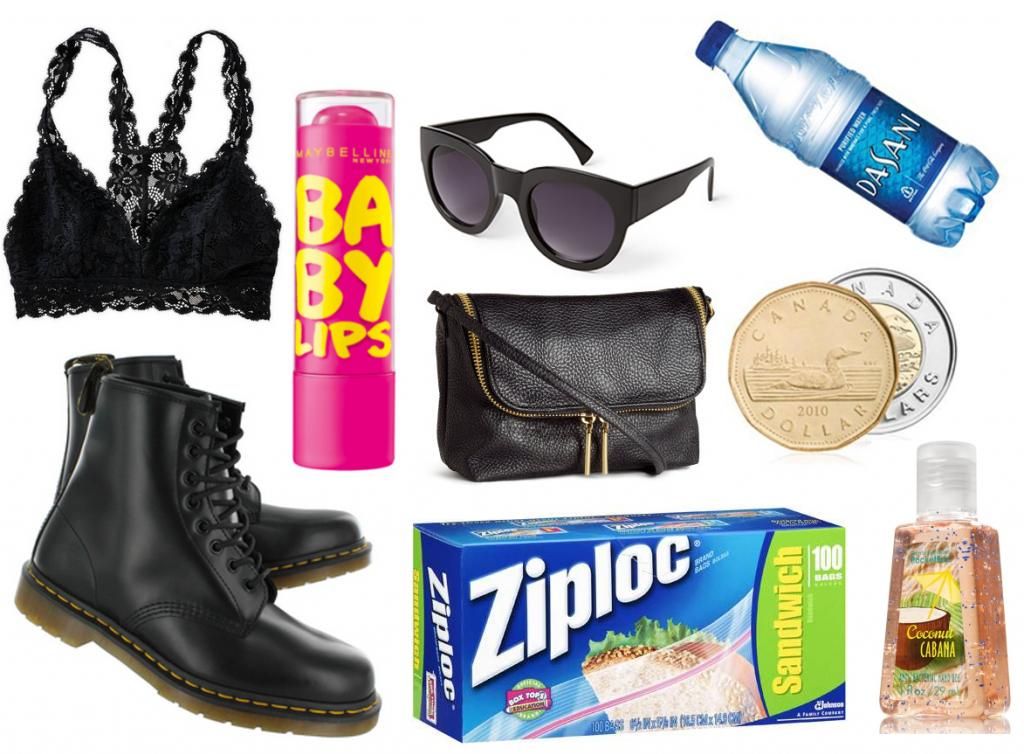 Bralette
:
If you wear a bra you know that there's nothing worse than an uncomfortable one. I don't know about you but I'd personally rather be focused on the bands I'm seeing than the under-wire that's stabbing me in the side. If you're like me and need something with a little more support, make sure that you wear your most comfortable bra to dance in and make sure you adjust your strap length so you're not constantly fiddling with them throughout the day. If you're comfortable wearing a bralette, I'm insanely jealous of you and you should jump at the chance to do so. There are so many cute styles out there for cheap and they look
sooooo
comfortable.
Tinted Lip Balm:
I don't bother wearing a lot of make up when I know I'm going to be sweating it all off anyway. I usually go for tinted lip balm in these kinds of situations because they give you no fuss lip colour while keeping your lips hydrated.
Cheap Sunglasses:
I always, without fail, break my sunglasses at music festivals. I'm not quite sure how it happens, but it does. I don't know about you but I'd much rather break a pair of
$6.80 ones from Forever 21
than my Ray-Bans. I also like wearing huge oversized ones so I can go light with (or completely forego) any eye makeup.
Water Bottle
:
Staying hydrated is SO IMPORTANT and most music festivals allow you to bring in at least one sealed water bottle. They usually have fountains to refill them too so you don't have to constantly buy them.
Comfortable Footwear:
Keep in mind that you're likely going to be standing around for hours and the venue will be either on a field, on rocks or in mud. I usually wear
Dr. Martens
or other kinds of boots to festivals so I know that my feet are protected from things found on the ground (like rocks, sharp objects or glass), elements and even from being trampled by the crowd. I opt for my most comfortable option that I know will keep my feet safe.
Crossbody Bag:
I've
talked about this before on my blog
and this is probably the most important point on this list. There is nothing more annoying than standing behind someone with a giant backpack (small or compact ones are okay) or beside someone with a huge bag slung over their shoulder. Personal space is hard to find at these sort of events and I cherish every centimeter I get. A lot of music festivals are cracking down on what kinds of bags you can wear and the items you can bring in, so a small crossbody bag is always a safe bet. I try to steer clear of bags with a metal or chain strap as the sun can make them very hot and they can really
burn your skin - I've worn bags like that in blaring sun more times than I like to admit and it can get
very
uncomfortable. Leather/pleather/canvas straps are your best friend in these kind of scenarios - like the one pictured above from
H&M
.
Cash:
It is pretty rare for a food vendor or merch tent to take interact or credit and there probably won't be many (if any) ATMs hanging around. Carrying cash with you is always a smart idea, the amount is completely up to you though.
Keep in mind that the prices are usually insane and carrying a ton of change can get really really heavy.
Ziploc Bags
:
I put just about everything in my crossbody bag in a Ziploc bag. It keeps my items from getting water damaged and having loose items in separate Ziploc bags keeps me a lot more organized than having all my items floating around my bag. I've had bad experiences in the past where the items (including my cellphone) I was carrying became waterlogged and damaged way beyond repair. I'm definitely not going to let that happen again.
Hand Sanitizer
:
This is pretty self explanatory. The world
can be
is a dirty, disgusting place. I don't leave home without hand sanitizer as it is, but I make extra sure I carry it with me when my chance of using a port-a-potty is escalated.